The In Deck Spa Pool....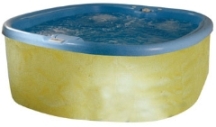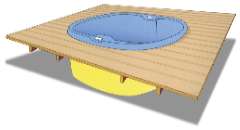 The in-deck version comes without the cedar surround but in all other respects is the same as the Plug 'n Spa version.  If you prefer a spa pool integrated into your deck or garden environment, the in-deck version is a great way to go.  All you need are DIY building skills.

It's easy to build into your deck or patio.  Simply ensure that the spa pool sits on a firm, flat, dry base and construct the deck around it. Our in-deck spa is a great option if you want to personalise you spa by adding your own cladding or customised surround.

Please note: it is important that in any construction you leave adequate access to the pump bay for servicing.

The In-deck is completely self-contained and generally does not require any special purpose plumbing or electrical installation. The spa pump is designed to plug directly into a normal household 10-amp power socket via the use of the supplied Residual Current Detector (RCD).

I bought my spa because it could be plugged in, and the price. Value for money it seemed to be the best.
- Jill Taylor





See Spa Pool Gallery page
for larger image


See also Choice of colours...
Spa shell colours - choose between blue granite, green granite or white granite
Cover covers - choose between forest green, navy, charcoal or gold
See also Optional extras...