Insulation and Heating Costs
Some people believe spa pools are expensive to run. The truth is, some are and some aren't. So what makes the difference?
Extraordinary Insulation...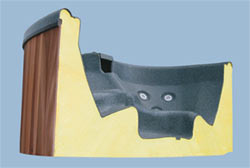 Some higher-priced spas only have 30 millimetres of insulation sprayed on the underside of the spa.

But the Plug 'n Spa is extraordinary.  A solid block of foam encases the entire underside, trapping heat and resulting in typical weekly heating costs for a standard spa pool of less than $8.
You want to make sure it's well insulated and that it's not going to rack up your power bill significantly.
- Rose Vos

The foam not only minimises heat loss but also provides superior structural strength for the entire spa pool.
Low heating costs...
Poor insulation means your heating dollars can easily be triple that of a well-insulated spa. Superior insulation, together with the very efficient spa pump means that typical Plug 'n Spa electricity will be quite modest.
The power consumption is important when you're buying a spa pool. And it's the first question people ask you, "What are they like on power?" But I've hardly noticed any difference at all.
- Dianne Sandford

It is quite common that Plug 'n Spa owners don't notice much difference in their power bill...

I've hardly noticed any change in the power consumption at all.
- Brenda Elliot

We monitored a standard Plug 'n Spa at an Auckland property with an electricity consumption meter for a six week period over winter.  During this period the spa pool was used for half an hour per session every other day.

Electricity consumption averaged 23.4 kW hours (units) per week during this test period.
Based on this data, and allowing for regional variations, we feel confidant in estimating that, typically, a standard Plug in Spa will consume, on average through out the year, up to 26kW hours per week - this level being 10% higher than the Auckland winter test run.
A spa pool fitted with an ozonator, because it is programmed to cycle for a few more minutes each hour to filtrate the water, will use a little more.  We estimate consumption will be up to 35 kW hours per week.
The actual electricity usage you experience may vary from this depending on a number of factors such as:
Your usage. If you use your Plug 'n Spa more frequently and for longer periods, you'll obviously use more power.
Your local weather conditions. The windier it is, the faster your spa loses heat. If you can protect your spa from the wind, it will not have to work as hard to maintain the set temperature and will use less power.
Your local temperatures. Obviously, the colder it is the more power you're likely to use.
Heating cost table...
The cost of running a spa pool is a direct reflection of the rate of consumption and the electricity cost. The kW hour cost of electricity varies considerably depending on the supplier and the geographic area as well as the type of supply plan.
The weekly operating cost at various electricity charge rates and for upper end usage of both the standard spa and a spa fitted with an ozonator is set out in the chart below...
| | | | | | | |
| --- | --- | --- | --- | --- | --- | --- |
| Electricity cost - Cents/kWh | 16c | 17c | 18c | 19c | 20c | 21c |
| Weekly heating cost - 26 kWh usage | $4.42 | $4.68 | $4.94 | $5.20 | $5.46 | $5.72 |
| Weekly heating cost - 35 kWh usage | $5.95 | $6.30 | $6.65 | $7.00 | $7.35 | $7.70 |